Wimbledon vs. Milton Keynes in the 2nd round of this year's FA Cup then? Apparently this is less welcome news to the Dons and their fans than us outsiders might have thought.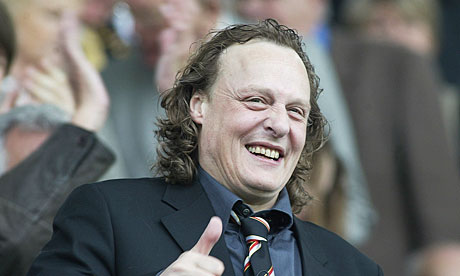 Winkelman: Football friend...
FA Cup draw
Depending on the outcome of two replays, we have been drawn against Milton Keynes in the FA Cup 2nd round to be played on 27 November.


Most people know the way that Milton Keynes obtained their football club. It was wrong then and it is still wrong now, which makes this fixture very painful for us. However, when we entered the FA Cup we understood that this might happen and we will go about our business professionally and complete the fixture. But we would have preferred that it hadn't happened. We have no further comment to make at the moment.
Like the dignified anger of a damaged child forced to meet his adulterous step father for the first time, the reaction is awkward, empty, acidic sadness and regret rather than vengeance. A reflection on wounds that are still open and scars that may never heal so recent was the desolation created when Winkelman and co were allowed to rip the heart out of football in Wimbledon.
But Wimbledon FC was dying wasn't it? It was going bust. Milton Keynes was the only option?
Whatever your thoughts on the rhetoric of the football capitalist, the message sent by the powers that be was clear, football communities don't belong to a place or to people... they belong to the highest bidder. And the message to the fans? Get on the bus if you want to support your football club. It's economics. It's the free market.
Your football club is a business, nothing more. If it flounders, someone else can take it from you and move it up the road. They can take your place in the league, your name, trample on your history.
If you are a low income family London you might be about to get a taste of the Wimbledon treatment. With no option to house-share with the Eagles' next door it looks like it'll be straight out to the soulless new town, away from your support, your job and your community.
In the uncensored words of Boris Johnson, the government's housing benefit reform is an attempt at a Kosovo style "cleansing" of inner London. The roots that bind communities beneath the pavements of London will carry no weight in the argument.
Just as Wimbledon's place in the league among their wealthy neighbours was up for grabs, the homes of Londoners will soon become the lairs of lank haired Winkelman-a-likes, flowing into town on a sea of Barbour jackets: homogenizing the streets until the only life and soul is the misspelled sign of the post modern chip shop. Where the chips taste like disappointment and smell like estate agents. And the wounds are too deep and too sterile to heal.